Reaching Older Adults in Renfrewshire (ROAR) is a consortium of voluntary and social economy organisations, based in Renfrewshire, working together to design and deliver low level care and befriending services for older adults. The delivery model for the service is a 'Public Social Partnership (PSP)'
The service targets three groups of older adults aged 65 and over who live locally:
Older adults who are housebound
Older adults with early signs of deteriorating changes
Older adults who whilst there is no significant risk to their daily living would benefit from the services
The project aims to:
Seek to maximise an individuals independence and improve their quality of life
Provide companionship to isolated and excluded older adults
Promote quality of life and engagement with their local community through increased social networks
Maintain existing skills and promote health and well-being
RCVS is responsible for the co-ordination of ROAR, further development of the project to include more services such as a one stop information/advocacy service and further capacity building of older adult organisations and groups locally.
Our Partners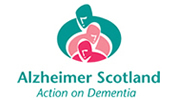 Alzheimers Scotland deliver a specifically tailored befriending service for older adults showing early stages of Dementia.

WRVS deliver a number of services for ROAR:
Activity Club – older adults are given a nutritious lunch at a small cost. Social, health and well being activities are also provided. Takes place every Tuesday and Thursday at Johnstone Town Hall.
Transport Service – for older adults who require assistance to and from activity clubs, befriending events, medical appointments, visits to the bank etc. Provides a practical service and social interaction at the same time.
Befriending – visiting older adults in their own home or in the community for an hour or so, potentially more than once a week.
Would You Like To Volunteer?
As a ROAR volunteer you can:
Give as much or as little time as you want
Help make a real impact on the lives of older people in Renfrewshire
Enjoy being part of a team
Develop new skills and gain experience
Have fun
Help make a small difference to someone's life
So if you are interested in the service or volunteering or to help someone you know to apply please contact us at:
Morag O'Donnell
Development Officer, ROAR
0141 5872487